AUGAUER BITTERS CO. : SUN KIDNEY AND LIVER BITTERS & DR RUSSEL PEPSIN CALISAYA BITTERS
The Sun Kidney and Liver Bitters was a product from the Augauer Bitters Co. located in Chicago, Ill. This company was formerly the Dr. Russell Medicine Company which is thought to be established in 1890. The first listing for the Augauer Bitters Company was not till 1913. The company was located at 49 W. Kinze Street till 1915 then relocated to 143 W. Austin Ave. 4th floor.
Note: I recently seen a 1906 ad for the Augauer Bitters Co.
Both companies produced a rectangle green bitters bottle very similar. The Augauer Bitters Company went out of business in 1918 because of prohibition.
Below are photos of the Sun Bitters bottle it is embossed SUN / KIDNEY / AND / LIVER BITTERS // VEGETABLE LAXATIVE / BOWEL REGULATOR / AND BLOOD PURIFIER.
Below are photos of a Dr. Russell Bitters bottle. The bottle is embossed PEPSIN / CALISAYA / BITTERS // DR. RUSSELL MED. CO.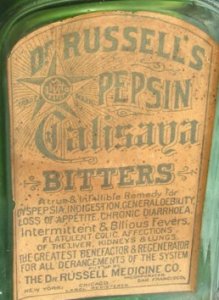 Below is an ad for Augauer Bitters.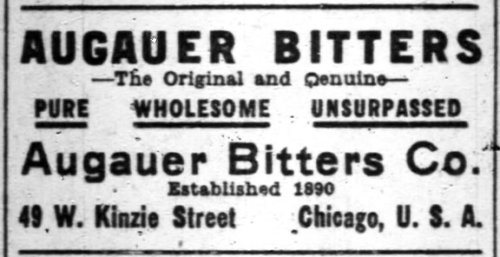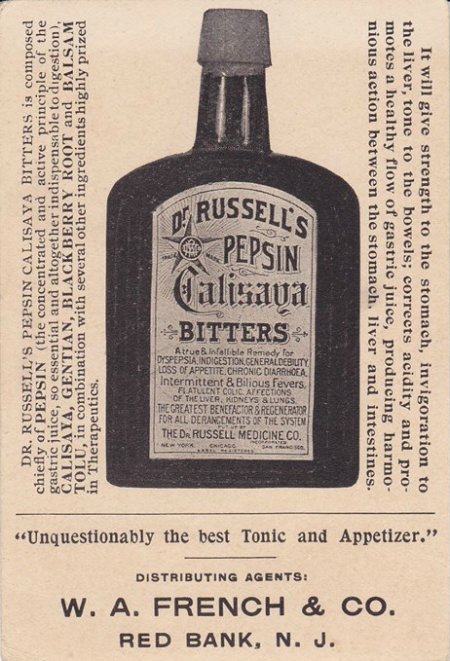 References:
Bitters Bottles by Carlyn Ring & W. C. Ham.
Frank & Frank Jr. (Wicker) Bottle Collection.