HVS ASPARAGUS STOMACH BITTERS (LABEL ONLY)

This labeled only bitters was manufactured by the Web's Manufacturing Company which was located in Sacramento, Cal.

(Webb's Co.-Operative Chemical Co.--T.M. Lash & Co. from a letter head.)

For more about the Web's manufacturing Company and its beginning refer to.

ARTICLE 56: JOHN SPIEKER & TITO M. LASH: LASH'S BITTERS

ARTICLE 190: T. M. LASH & CO.: WEB'S A NO. 1 CATHARTIC TONIC

Below are photos of this label only Bitters. The labels says H V S ASPARAGUS STOMACH BITTERS.





Below is a letter head bill sheet fro the HVS Asparagus Bitters & WEbs A No. 1 Tonic.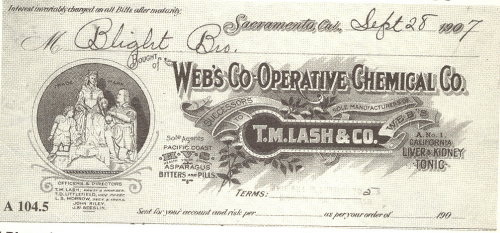 References: